The Old Kodaki Bridge in Ashio
[Front photo] A disused bridge near the Kodaki Mine Portal in Ashio, Tochigi, Japan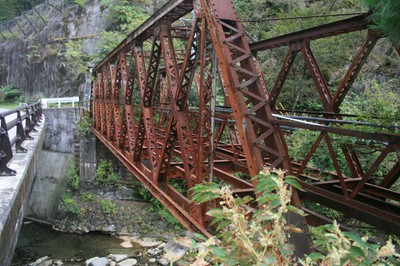 In the Kodaki area of Ashio, located in the middle of the mountains, the local population was more than 10,000 when the Ashio Coppermine was in its full operation. The Kodaki Mine was abandoned in 1954, all buildings removed, and what we see now is only a monument with inscription saying "This Place Used To Be Our Town Of Kodaki".
This disused bridge, located just off the centre of Kodaki that once existed and throve, was completed in June 1926 (according to the inscription found on the bridge itself) and linked the main area and the mine across Koshin-yama-Gawa River. The sign by the Nikko City Council suggests that the length and width are 26.6 metres and 3.05 metres, respectively. In Ashio where much older iron or steel bridges can be found, this bridge is relatively new; however, its condition will give the viewers a quite different impression.
Photo taken on: 21 September 2009.
Follow this link to download image(s).