Page first written 24 November 2002
Last updated 17 February 2003
"The Portals to Birmingham"
Digital Camera Report from Birmingham No. 7
---
Abstract
"The Railway Mania", the three years of railway construction crazy started in 1845, made the British rail system an excessively complicated one. In the old rail maps we can easily see many "unnecessary" lines scattered all around the country. Although not "unnecessary", there are a fairly complicated network around Birmingham, and the history behind it is also very complicated. For example, when London and Birmingham Railway opened the 120-mile long line, the terminus of Birmingham was located at Curzon Street, not New Street. There were LNWR (formed by the amalgamation of London and Birmingham Railway and other related railway companies) and Midland Railway, who jointly used the Curzon Street and later New Street stations, and Great Western Railway who constructed two individual terminals of Moor Street and Snow Hill stations.
Today, Birmingham New Street is said to be a busiest terminal in Europe. It has 12 platforms, which is apparently not enough to handle the trains, and they allow two or more short trains to use one platform. This is apparently not a safe thing to do; however, much better than to increase track length only to cause accidents like Potters Bar by lack of maintenance...
When I tried to take photos of New Street Station, it was during the Golden Jubilee celebration weekend, and I was forced to stop it by one of the station staffs. Speaking of Golden Jubilee, it was just when the World Cup was being held in Japan and Korea; it was therefore natural that many expected that Golden Jubilee would be "neglected" while vast majorities' attention is directed to the World Cup. Birmingham has been campaigning for a new National Football Stadium, saying that it is cheap to build it here and also the transport network around Birmingham is much more manageable than Wembley in north London. Apparently Birmingham New Street is far from "manageable", but the other modes of transport like motorways or airport can be. The example introduced in "Bring It To Birmingham" campaign by the local newspaper The Birmingham Post was the people-mover between Birmingham International Station and the Airport, using DCC (Doppelmayr Cable Car) system.
---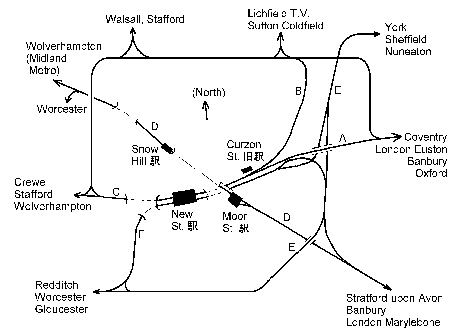 Fig-1: The map of railway tracks around Birmingham.
---
Photo-1: The building that was the former Birmingham Curzon Street Station.
---
Photo-2: The plaque on the Curzon Street Station building.
---
Photo-3: Birmingham New Street Station -- car entrance.
---
Photo-4: New Street Station looked from the junction of New Street and Corporation Street.
---
Photo-5: A shot in New Street Station -- train arriving at platform already occupied by another.
---
Photo-6: DCC, new people-mover linking Birmingham Airport and railway station.
References
Chancellor, E., "Devil Take the Hindmost -- A history of Financial Speculation", Macmillan (1999)
Reed, M. C., "The London & North Western Railway", Atlantic Transport Publishers (1996)
Boynton, J., "Main Line to Metro", Mid England Books (2001)
"City's new air-rail link will boost stadium bid", Birmingham Post, August 29 2001, p. 4
---
Click here when the copyright notice appears on the images.
---
TAKAGI, Ryo webmaster@takagi-ryo.ac (c) R. Takagi 2002 - 2003. All rights reserved.